Chautauqua in June Learning Festival Showcases Western New Yorks Historic and Natural Gems
|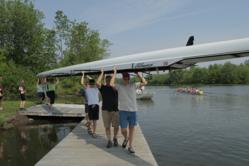 Chautauqua, NY (PRWEB) May 16, 2012
Experts in birding, rowing, geology, architecture, and more will join Chautauqua Countys museums and tourist attractions in showcasing the countys historic gems and natural resources while offering myriad adventures during the Chautauqua in June learning festival, May 25 June 17, 2012.
Birders will find fun and laughs as well as serious field trips at the 4th Annual Roger Tory Peterson Birding Festival. A highlight of the two-day event, June 8-9, is the chance to meet Greg Miller, the real-life character played by Jack Black in the movie "The Big Year". Gregs attempt to set a new record for the most bird sightings in North America within a single year was the inspiration for the book, "The Big Year: A Tale of Man, Nature, and Fowl Obsession" by Mark Obmascik and a 2011 movie directed by David Frankel of "The Devil Wears Prada" fame. Referring to the movie, Roger Tory Peterson Institutes director of education, Mark Baldwin said, Steve Martin, Jack Black and Owen Wilson give fine performances as birders whose passion for the sport takes them to heights that most of us would consider ridiculous. Still, their obsession is not unlike others we might think of as normal, and the movie shows that much of what makes us human is what bonds us to other people and to other living things that we find mysterious and beautiful. Greg Miller will deliver a keynote address at the festival's closing banquet on Saturday evening. Copies of Obmasciks book will be available onsite at the nature store.
Field trips include travels to the Mount Zion/Piney Tract Bird Area in Clarion County, PA for grassland and nesting birds as well as to Pennsylvanias Allegheny National Forest and New Yorks Allegany State Park to see all kinds of warblers. Professional ornithologists, birders and photographers including Gary Edwards, Scott Stoleson, and Tim Baird will serve as guides. Additional happenings at the Roger Tory Peterson Institute include a Friday evening reception featuring McGill University ornithologist and regular Bird Watcher's Digest contributor David Bird, who will present a program titled, "How Birds Do It: The Nefarious Sex Lives of Birds." Saturday is a family fun day with a host of hands-on demonstrations and workshops, and outdoor activities for kids and families.
At the Jamestown Audubon Center and Sanctuary, educator Jennifer Schlick will take participants on a bluebird tour on May 26th and show them how to build and install their own bluebird next box. The Jamestown Audubon will also be hosting its annual Allegany Nature Pilgrimage, a three day nature extravaganza at Allegany State Park, and "Figure 8 the Lake", a road trip exploring the social and scientific history of Chautauqua Lake led by naturalist and geologist, Tom Erlandson.
Once a world renowned furniture capital, the City of Jamestown boasts a wealth of industrial and architectural history. Learn about early industrialists and citizens during walking tours with the Fenton History Center and Museum, keeper of Jamestowns history and a source for Genealogy
research. Historians, architects, and an amateur archeologist will guide the two hour walks through five different industrial, trade, and residential areas of the city. The Fenton will offer historic walking tours regularly on Saturdays starting Memorial Day Weekend and continuing through September.
Gently rolling hills, rich farmland, and large rural areas make western New York an ideal home for the Amish. Visit New Yorks largest old order Amish community with tours of greenhouses or shops and then stop for an afternoon of tea or dinner at the Cherry Creek Inn. Jamestown Community Colleges Center for Continuing Education and SUNY Fredonias Center for Lifelong Learning are both offering touring and learning experiences in Amish country.
Chautauquas lakes and waterways were not only significant as a route to the Ohio River Valley, but a hotspot for the leisurely pursuits of sailing and rowing, a long standing tradition on Chautauqua Lake. Local legends abound about early and renowned rowing competitions from Mayville to Chautauqua Institution. The Chautauqua Lake Rowing Association has recently revived the sport and offers adult learn to row classes in June. For a more recent take on the sport of man-powered boating, Evergreen Outfitters offers introductory classes in paddling, either standing up or sitting down.
Those who grew up near Chautauqua Lake, western New Yorks largest inland lake, are sure to remember LS Aero Marine in Bemus Point, a popular and welcome stopping spot to fill up the boat with gas. The marine building has recently been transformed into the new Lawson Boating Heritage Center. David Lawson, former owner of L.S. Aero Marine and a trustee of the center will present a guided tour of the new museum and boat restoration shop on June 14th.
Chautauqua in June is a three week learning festival, May 25 June 17, 2012, with classes and workshops held in both indoor and outdoor classrooms across Chautauqua County, NY. The region is historically known as a destination for leisure learning, summer camps and workshops. Additional courses offered include Bicycle Repair and Maintenance, Bridge for Beginners, Bach & Beyond: Pre-concert Conversations, and How to think Like a Genealogist. There are more than 60 workshops in all offered during the three-week schedule with costs ranging from $ 10 for a two hour workshop to $ 250 for two days of workshops and meals. Participants can register for workshops online or request a program guide at http://www.tourchautauqua.com or by calling the Chautauqua County Visitors Bureau at 1-866-908-4569.
Find More Genealogists Press Releases